TGIF, it's been a long week! I found a couple great blog hops, if anyone is interested! If you are here to follow me from any of these blog hops, feel free to comment below! Have a fantastic Mother's Day weekend, Shopaholics!
Speramint Baby: Alexa Hop - *You need the Alexa toolbar to participate in any of the Alexa Blog Hops. It is free to download, just visit their website.* The Alexa toolbar helps you keep track of your daily Alexa Traffic Rank - which will give you somewhat of an idea of how your blogging efforts are paying off. You can also use them to check and compare your Alexa ratings to other sites and blogs. (i.e. Blogger's Alexa Rating is #5, today Shopaholic Mommy's Alexa Rating is 477,373. The more users with the Alexa toolbar that visit your site and comment on a post, the lower your rating goes. Here is the button for Speramint Baby's Alexa Hop:
Smart & Trendy Moms:
Social Parade Follow On Fridays -
This easy to follow blog-hop is perfect for beginners and pros alike. A lot of people are participating so you'll meet a lot of new followers! Follow by clicking the button below.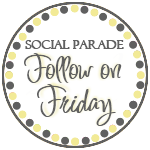 Design It Chic: Boost My Blog Friday - This is another awesome blog hop because it has no rules! Perfect for beginners! A lot of followers so that means a lot of readers for you! Button below:
I'm going to keep it short and sweet otherwise we'd be up all night! I'm off to find and follow some new blogs! Enjoy!