I decided to try something new to see if I could help ya'll get to the 500 fan goal so we can get this party started! This blog is still fairly new so I haven't had a chance to participate in a blog-hop yet. So I figured, what better day than today right? For you begginner bloggers, like me, a blog-hop is a great way to meet new people and gain followers and this blog-hop is being held by Smart and Trendy Moms! It's really easy to participate so head over and check it out!!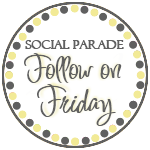 Click on the button above for more info or if you'd like to participate! Have a great rest of your weekend! I'm off to write up some more reviews and giveaways!
And yes I realize its Saturday..lol I meant to post this yesterday and didn't get a chance.